EVER WONDER WHAT HAPPENED TO THEM?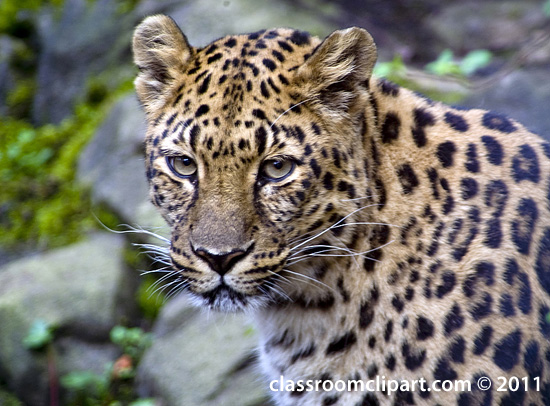 ________________________________________________________________________________________________________________

NEW!!!
As some of you know…I have asked for profiles from you, so that our classmates can know a little more about what has been going on in our lives since we graduated. I am now amending that request.  If you don't feel you would like to write a profile, maybe you could share with us some of your hobbies, accomplishments, or just something you are proud of and would like to share.  Guess I will be first!
************************************************************************************
A number of years ago, I picked up a few  "hobbies" to help keep me busy in these later years. One is family genealogy, another is messing with things I might do on the computer, such as this website. I also enjoy photography. I am sharing a video I made using the photos that I put music to.  Most of these photos were taken from my front porch, but there are some taken other places, such as Bayport, Chinesgut, the beach, and NC.  Singers: My daughter and a friend at a Sunday morning church service.
I think I mentioned that I am self-taught on the computer, lots of trial and error. So
thank you for your patience when you notice one of those errors.  My mother used to tell me to take the mistakes as love, so I am passing that on to you.
+++++++++++++++++++++++++++++++++++++++++++++++++++++++++++++
Profile: The Many Years of Jack C. Gant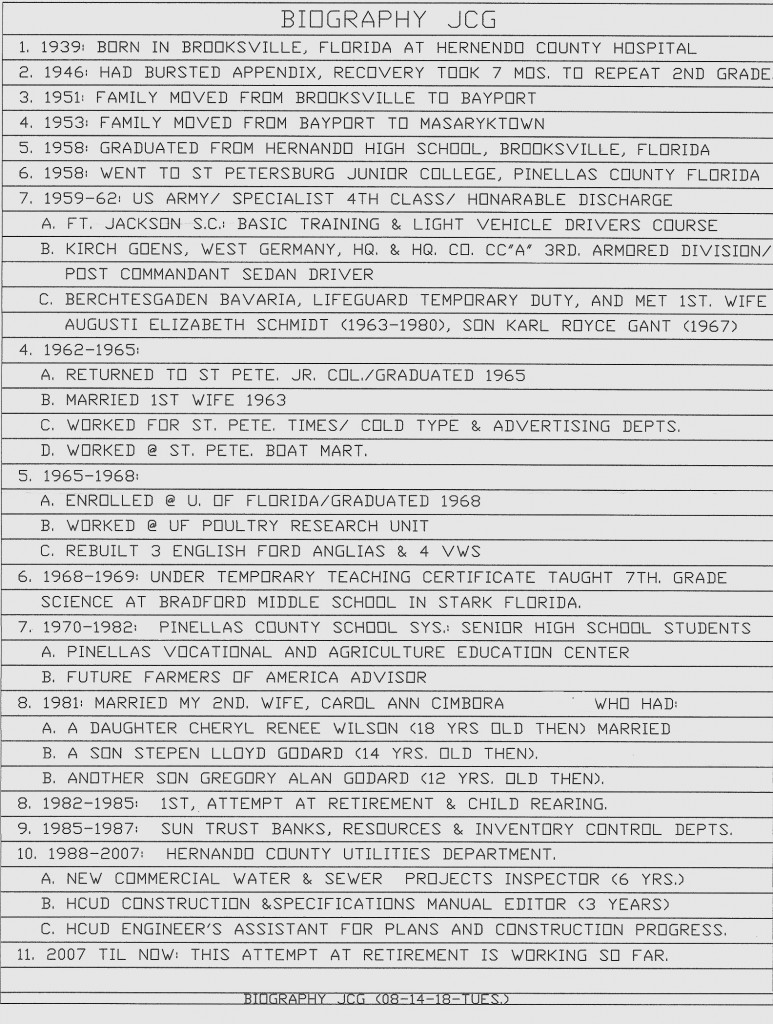 ________________________________________________________________________________________________________________
Profile: Our Remarkable Classmate – Freddie Griffin
Article from the The Florida Cattleman and Livestock Journal for October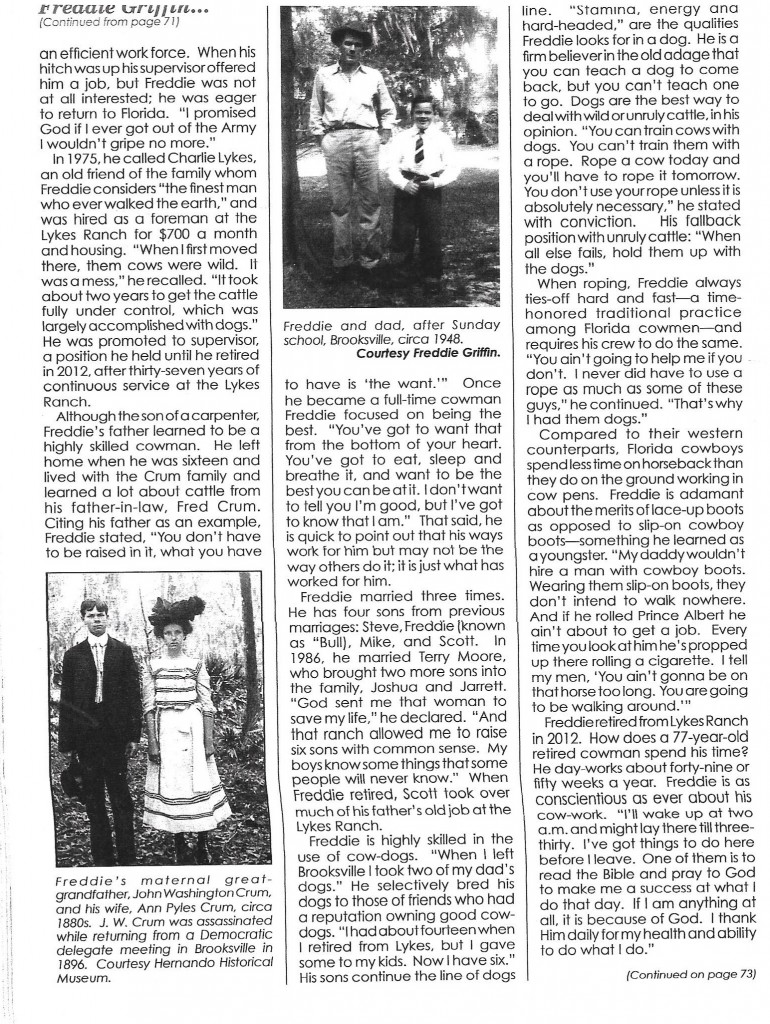 _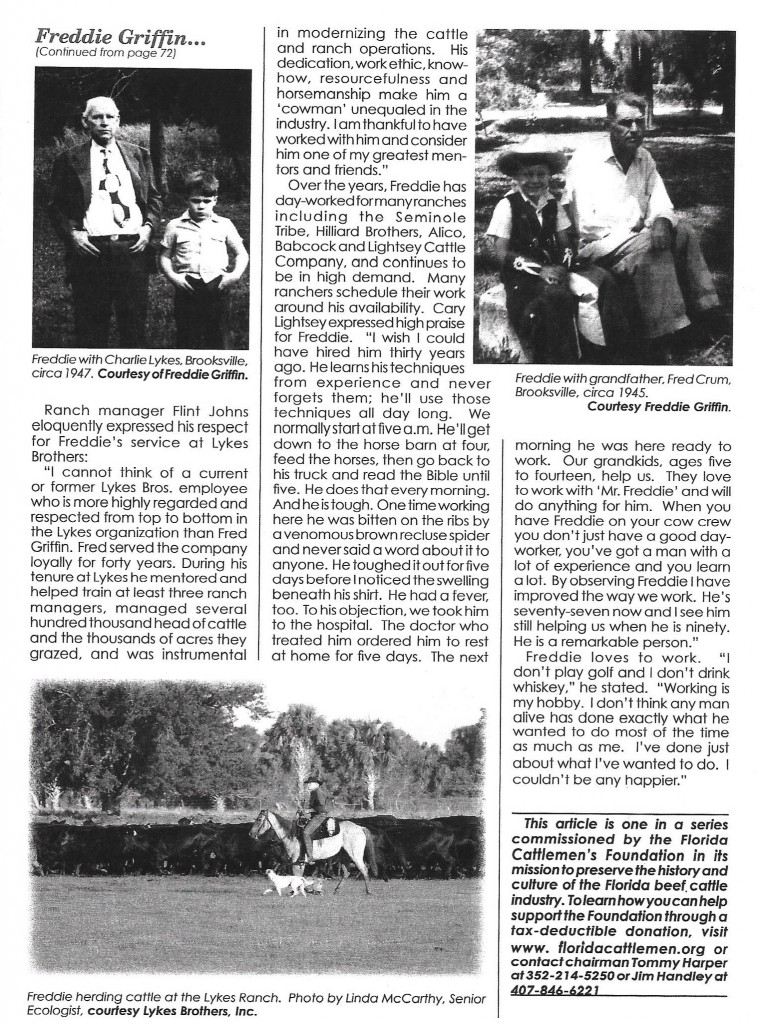 _______________________________________________________________________________________________________________
Profile: Whatever happened to our classmate Jerry Psenka?
"A man's character is revealed by his speech," it reads in the prologue next to Jerry Psenka's photo in the 1958 Hernando High School annual yearbook. And that's pretty much how things have turned out for our classmate during the nearly six decades since.
From his earliest days as radio host of "Teentime Hit Parade" on Brooksville station WWJB during those high school days,  Jerry's ability to speak clearly and communicate precisely have served him well.  While a student at the University of Florida's College of Journalism & Communications, our classmate gained four years of valuable experience as an announcer on WRUF, the campus radio station, as well as a reporter and later  anchorman on WUFT-TV, the Gators' PBS television station. 
After graduating with honors with a bachelor's degree in Broadcast Journalism, Jerry began his professional career as a reporter and announcer at WSB Radio, a clear-channel 50 thousand-watt NBC affiliate in Atlanta.  One of the earliest pioneer U.S. radio stations to begin broadcasting in 1922, WSB's powerful nighttime signal covered 35 states from Washington to Maine and many points in between thanks to the fact that no other radio station in the country was allowed to transmit on the same frequency after sundown.  The extraordinary power of that signal proved invaluable during the 1963 Cuban Missile Crisis, when the U.S. government's  Voice of America took over six ultra high powered U.S. Stations including WSB to broadcast news directly to the Cuban people during the 6-week period of the crisis. Jerry's job during that time was a simple one: once each hour, he would open the microphone and say "This is WSB, Atlanta!" Everything else during each hour from dusk to dawn came from VOA – in Spanish!
Wanting to transition to the world of TV instead of radio news, Jerry joined WAGA-TV, channel 5, the CBS affiliate in Atlanta, as a reporter, assignment editor, and later anchorman on the 6 PM and 11 PM newscasts. Among others he worked with early in his career who went on to become well known American broadcasting icons were NBC's Tom Brokaw, PBS' Judy Woodruff and CBS' Forrest Sawyer.
After more than a decade in the broadcast news profession, our classmate decided to redirect his communication skills to the corporate world. In the mid-1970s, he became public information manager for the 13-state, Atlanta-based Southern Forest Institute, the information and education arm of the South's pulp, paper, lumber, plywood and other forest products industries. 
Later, he completed his career with a 26-year stint with Weyerhaeuser Company, one of the nation's premier timber and forest products companies and America's largest private forest landowner. (In addition to manufacturing lumber, plywood and many other wood products, today Weyerhaeuser owns and manages more than 13 million acres of forests scattered across more than 30 states which, if aggregated, would cover roughly one half of the state of Tennessee!) When he retired at age 58, Jerry was southeast director of communications for the world-class Fortune 500 company based in Columbus, Mississippi. 
Today, our classmate lives quietly in Spring Hill, where he plays a little golf, does a little fishing, takes a few cruises from time to time with his significant other and looks forward to periodically visiting with his HHS friends. "It's been a wonderful life," Jerry reminisces with a smile, "and today it's even more rewarding and fun to share old times during lunch each month with my fellow Hernando High classmates."
     __________________________________________________________________________________________________________________
Profile: Maryleen Webb ~ Sr. Class President 1958″
Memories of graduation and of growing up in Brooksville are so vivid in my mind, it is hard to believe that 50 plus years have passed since our senior class graduation in 1958. On the other hand, when I reflect back on the events in my life, they couldn't have happened overnight. In July after graduation an uncle and aunt took me to Havana, Cuba for a graduation present. Six months later Castro took over the government. Then, I studied 5 years at Florida State University, (one year was in Paris studying French). With gratitude to my parents for their sacrificial support, I graduated in 1962 with a B.A. in Advertising Design and a Minor in French. I also received a "Mrs" Degree to a PhD Research Scientist., with the title of Mrs. Bradford Boyce.  Both of my parents are now deceased.
        We moved from Florida State University to the University of New Hampshire for one year for post doctoral studies. Then we purchased a house in Carlisle, Massachusetts which we owned until 1990. Two of those years were spent working at PahlaviUniversity in Shiraz, Iran, when the Shah led a peaceful and progressive Iran. We enjoyed touring all countries of the Middle East except Saudi Arabia and Israel, and Europe, and then returned to Massachusetts. I retired from a professional life in Advertising when I earned more titles: "Mother", "Homemaker", and "Suburban Housewife" in our Boston Suburb village. Several trips to Central America were tucked in those years, and a summer in Hawaii.
           In 1999 we moved to Baton Rouge, Louisiana where our daughter and son graduated from high school and then later graduated from Texas A & M University in College Station, where Father Bush's Presidential Library is now located. He spoke at Frederick's graduation.
I have more titles now. "Grandmother" to "Joshua", "Daniel", and "David".   Daughter Allison is a Physician's Assistant in Covington, Louisiana, (although she reduced her work to stay at home raising her very active sons.   My son-in-law Paul is a founding member of a Computer Company located in Mandeville, LA.  Son Frederick is a bachelor and is employed by Wells Fargo Bank Call Center in Dallas, TX.
Another title I earned was "Staff Member" at Pensacola Christian College, a full time ministry. I also sang in the 350 member Rejoice Choir.  After five years the Lord sent me to help my children in Covington, Louisiana and their growing family.
In addition to speaking French, Spanish, and Persian, (at least at one time or another), I have been learning to speak Pomeranian with my precious pomeranians. I live alone now with my precious Pomeranian, "Prince", as "Ariel" sadly passed away three months before moving to Louisiana.
I wish all of you well, and congratulate you on surviving the last 50 plus years, with the Lord's help.
All that is important on this earth is "To love the Lord with all of your heart, mind, soul, spirit, and to love your neighbor as yourself".
Sincerely,
Maryleen Webb Boyce
(Now known as just plain Mary Boyce)
________________________________________________________________________________________________________________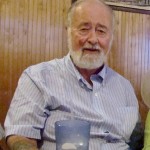 Don Decoster:
 One of the more difficult things to do in my life was to turn my job over to a hand picked relief and walk off into retirement yesterday afternoon. I am now one of the multitudes of "retirees" all of whom are hopefully enjoying the fruits of their labors. I retired out of the Navy with 50 years, two months, two weeks and three days of service both uniform and civilian. I have set foot on my last submarine unless something unknown should come up to change that.  I look forward to getting my emotional system leveled off and digging into retired life. At some point I want to come to Brooksville for a visit, and hopefully be able to attend one of the class of 1958 monthly gatherings. Not sure when the best time would be, but thinking along the lines of maybe this winter, possibly January or February, what do you think? I have felt a real pull to reacquaint with those of my high school classmates who are still able to visit. I will keep in touch, and Bobbie, thanks very much for the e-mails you continue to forward. I share them with many people here, and will continue to do so. Some of the guys at work have even started asking me, "Have you received any more of that good stuff from Bobbie Jean lately?" As I told you before, I worked with a group of very levelheaded conservatives. Just wanted you to know that now I am free of the job-it's been a long haul. Don Earlier correspondence from Don Hi Bobbie Jean; it is great hearing from you and thanks for the birthday greeting. I find it a little difficult to fully realize that now I am 69 years old. I'm not real sure what person is supposed to feel like at 69, but I do know I don't feel as old and beat up as many people my age (and younger) seem to feel and act. I am not yet retired. I wanted to handpick the person who will be taking over my job, which I have done, and he will be available in August of this year. We get through sea trials and final certifications of the USS New Mexico, (the last submarine I will ever worked on)  the end of September 9. I think that when the New Mexico heads on down the James River for the last time on September 30 I will turn in my security badges and head on out the main gate – into retirement. That will give me just slightly over 50 years Department of Defense (submarines) type of work and as far as I'm concerned "enough is enough". I may have told you or Evann, but after hurricane Isabel in 2003 almost wiped out of our beach home located on Chesapeake Bay, Joan and I decided to look elsewhere for a place to live. We ended up moving to our present home located in Surry County (a rural county) and we love it. This seems to have been a great choice of places to have settled in, in retirement. After I retire September 30, there are several things that I have scheduled for myself. On my list is a trip to Florida; I want to visit my dad's burial spot down in Venice and pay my respects.  I very badly want to attend a monthly get-together of the class of 1958, even though the get-togethers aren't particularly well attended. The whole 50 years plus since we graduated I have focused my attention almost completely on my work I have been very successful at what I do, but only because of much focus and dedication (certainly not the brains). Now that I will be free of all that, I really feel a need to reestablish some of the old contacts and my high school class seems like a grand place to start. I look forward to seeing you again, and as many others who may be there at the monthly. Not sure yet which month that will be, but will talk with you first and see what your recommendation might be. I have been in recent contact with Ronald Harburg and send him a USS Hawaii SSN 776, hat to wear out there. The USS Hawaii is one of the brand-new Virginia class submarines, which is now headed around to be in Hawaii for King Kamehameha Day. Other than Ron and yourself I have received a short message occasionally from a couple of others, and it is always good to hear a voice from my earlier life. Looking forward to seeing a few of you again. Regards, Don
____________________________________________________________________________________________________________________________
"Profile: Verona Deen"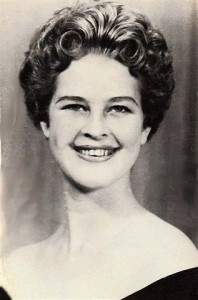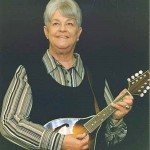 Lots of you don't know, that I finished school at night school and since I didn't lack but a couple of credits,, I was able to graduate with a regular diploma instead of the general diploma and I graduated on time with my class.  Graduated from nursing school and had 42 years in that field. The last eight years that I worked, I taught (of all things) anatomy and physiology at Bainbridge College in Bainbridge Georgia.
     I have, at this moment, 20 grandchildren and 14 great-grandchildren!! My youngest son and his wife just adopted three little girls.. His wife's cousin died of a brain tumor and since the father had signed away his rights to them, she requested my son and his wife take them– so they did.  We are pleased and happy to add them to our ever-increasing family.
I play the mandolin and guitar and I play and sing in the following bands at this time –Back Porch Country—Southeast Country—Glory Bound Gospel—Dinwiddie Boys Plus One and Good News Gospel. I play every Friday and Saturday nights, most Sunday afternoons and do nursing home ministries during each month at 10 different homes. I also do a lot of home singing for the shut-ins that can't get out and attend music programs anywhere else. That is my personal ministry and I love doing it. I guess that pretty much sums me up– up to this point! Never know what I might get into next! Thinking about taking clogging lessons!! Love you!!!!
Verona
[/box]